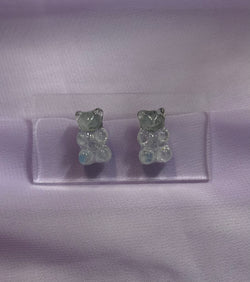 TheIntentionGoddess
Gummy Bear Aquamarine Stud
Gummy/Teddy Bear hoop. Packed with aquamarine.
INTENTION: COURAGE, PROTECTION, PEACE
CHAKRA: THROAT
ZODIAC SIGN ASSOCIATED WITH: PISCIS 
Aquamarine is a stone of courage. Its calming energies reduce stress and quiet the mind. It has a shielding effect on your energy field and has even been used for physical protection during battle and at sea.
-Hypoallergenic Stainless Steel
-Lightweight
Made to order: Will Ship on 3-4 Days💜