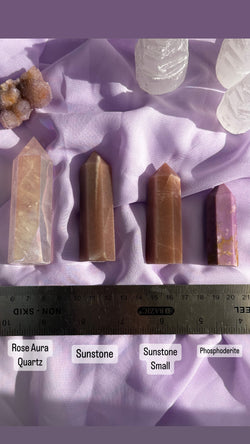 TheIntentionGoddess
Angel Aura Quartz, Sunstone & Phosphoderite Towers
✨Aura Quartz is a high-vibrational stone, a master healer. They carry a high level of Life Force, cleansing and enhancing the organs, stimulating the immune and energy systems, and bringing the body into balance.
✨Sunstone Also known as a stone of joy, sunstone is believed to inspire good nature and an enjoyment of life. It is a stone of power
✨Phosphosiderite is a rare mineral named for its main components, phosphate and iron. It possesses a tranquil vibration to pacify the mind, and alleviate anxiety. A natural stress reliever, meditating with this stone offers our minds a welcome respite and a sense of peaceful relief. This purple gem is a multitasker by definition, working in conjunction with the Third Eye Chakra to open us to our spiritual selves and our spirit guides, and also with the Heart Chakra to give us the courage to heal from past wounds and be receptive to love.